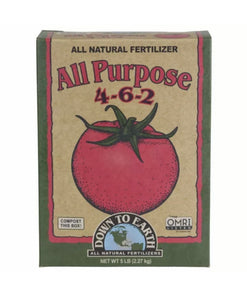 All Purpose fertilizer.
Fertilizer Analysis (N-P-K): 4-6-2


Down To Earth's All Purpose 4-6-2 mix is ideal for all types of transplants. A gentle, non-burning fertilizer made for vegetables, herbs, flowers and container plants, it is formulated with top-quality organic ingredients and designed to deliver a steady supply of essential nutrients to your plants while enhancing soil fertility and microbial activity naturally.
Bought in bulk and repacked to bring you some of the lowest costs available out there.